Promotional Reusable Water Bottles
A stylish way to keep hydrated at your desk, our sleek Kolding Reusable Bottle presents the perfect solution when getting up to keep refilling your glass becomes a chore. Reflecting the latest in Scandinavian design, this curvy bottle, made from toughened glass, offers a light weight, durable product for use in the office or on the go! The carefully designed body, without the usual ridges of a screw top, offers greater levels of hygiene to most standard bottles. Available in a wide range of lid colours, with various packaging options POA. Price for engraving as standard (can also be printed). Available in 300ml, 500ml and 800ml sizes.
"Scandinavian design...
Kolding Glass Reusable Bottle: Toughened glass, light weight and beautiful design plus available in 3 different sizes."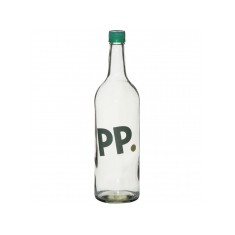 Smarten up your meeting room with our premium quality custom branded Screw Top Reusable Water Bottle - 1 Litre. The screw top lid means that this item is suitable for both carbonated and non carbonated drinks. Your design is inverted engraved to 1 side for a high-quality finish and multiple branding colours are available POA. Perfect for meeting rooms, with a wide range of lid colours available. Supplied bulk packed in 18's.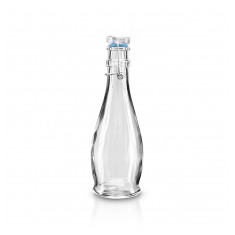 Swig in style with our 350ml Branded Curved Swing Top Glass Bottle. This small, glass, swing top bottle is personalised with your design. Perfect for serving water in meeting rooms. Inverted engraved with a frosted effect, as standard, but also available with coloured engraving!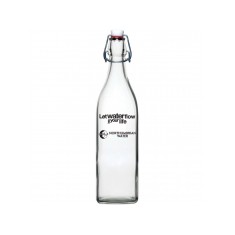 Enjoy a cold, refreshing glass of water, poured from our promotional Reusable Glass Water Bottle - 1 Litre. High quality Square bottle, made in Italy and branded in the UK.
With a 1 litre capacity, giving a useful supply of water for your next meeting. Made from glass, with a white plastic stopper & red washer, but why not add a pop of colour with one of our coloured plastic stoppers? Available in a great range of colours - POA. Bulk packed in 20's. If you're looking for a more traditional style, see our Large Swing Top Bottle for an alternative shape.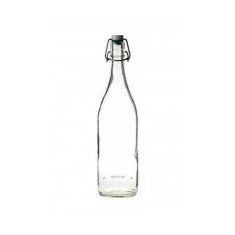 Our custom branded Premium Swing Top Bottle - 500ml is perfect for conferences and meeting rooms. A small, glass, swing top bottle with a ceramic top and blue or green washer, personalised with your design to 1 side. Bulk packed in 20's.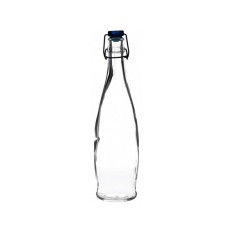 Pour your clients a refreshing glass of water from our personalised Large Swing Top Bottle. With a 1 litre capacity, this bottle is ideal for any meeting rooms or conferences to keep your guests hydrated throughout the day. 
This contoured glass comes fitted with either a blue or red stopper which are great for differentiating if you have both still and sparkling water. Engraved with your design to 1 side. Make sure to give your guests a premium bottle to pour their refreshments from. 
69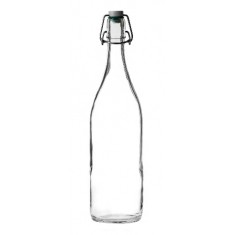 Ditch the plastic bottles for your next meeting and instead use our personalised Premium Reusable Water Bottle - 1 Litre. The high quality glass gives it a premium feeling and makes it reusable for all your meetings.
Comes with a polished glass finish and can be personalised with your design. With a 1L capacity and white ceramic top. Can get different coloured stoppers. 
Make sure your next meeting looks the part with these premium water bottles.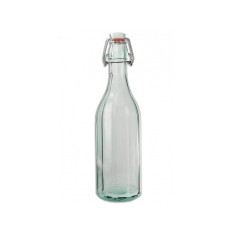 Supply your guests with plenty of refreshing water, presented in our classically styled custom branded 750ml Swing Top Reusable Bottles at your next event or company dinner. Engrave with your design to this sleek bottle with for a luxury and executive finish water bottle, that will be the perfect finishing touch to your evening! 
For a more contemporary design, take a look at our Kolding Water Bottle.
We're Not Sure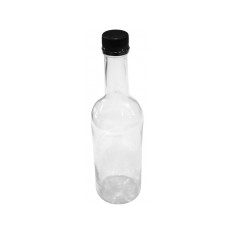 Add a premium feel to your office or workplace with our Screw Top Reusable Water Bottle - 500ml.
The screw top means this bottle is suitable for Carbonated or Non - Carbonated drinks. 
Prices as standard for etching your design to the side of the bottle, however multiple print colours are available, POA. 
Promotional Water Bottles? MoJo Promotions stock a great selection of personalised water bottles, all designed to be custom printed with your brand. Water Bottles provide a outstanding way to support your message. The goodwill created by personalised water bottles is guaranteed to ensure your promotional goals are met. Our collection includes - Screw Top Reusable Water Bottle - 1 Litres, Swing Top Reusable Bottle - 750mls, Premium Swing Top Bottle - 500mls and Curved Large Swing Top Bottle - 1 Litres as well as many more. All of our merchandise can be personalized to suit your objectives, please contact us for more information.