Why choose personalised refreshments? What a better way to get people to visit your stand at an exhibition than to offer free personalised Refreshments? Ranging from custom printed water bottles to branded chocolates and mints, there is something for every taste. Promotional refreshments are perfect for everything from little sugar pick me ups at your stand to customised mint cards that will stay with the customer long after the event is over.
Read More...
If you're searching for a customised water bottle to hand out, make sure you've giving one away that offers something extra. Our personalised 330ml Bubble Water Bottle has a unique shape that will catch the eye of all who see it. Filled with water and then printed either direct to the bottle or in full colour to a plastic wrap, these bottles are perfect for standing out. Handing out a drink a little warmer? Our branded Kraft Paper Cups are perfect for handing out the hot drink of your preference and have the benefit of being completely biodegradable. 
Looking to put together a set? Pop your favourites into a basket and we can draw you up a quote. We'll even include visuals so you can get an idea of what they will look like!
Double walled. Printed with a full colour wrap. 8oz capacity.
£0.24 on 1000+ (MQ 1000)
Sugar free mints. Credit card size. Full colour print available. 8 colour choices.
£0.65 on 250+ (MQ 100)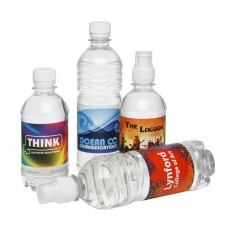 Screw top bottle with full colour branding. Still or sparkling water. 330ml or 500ml.
£2.49 on 500+ (MQ 500)