Why choose personalised pc items? Trying to find something to give out to all your customers and employees who are desk based? We've put together a selection of personalised PC Items to help them in their day to day lives whilst increasing your brand awareness. Need something compact and mailable? Try our range of branded Screen Cloths. Promoting healthy workplace practises? Our range of customised Wrist Rests are not only useful for helping out but also have an outstanding branding area. Whether internal or external, large or small you're sure to find promotional PC Items to suit your campaign.
Read More...
Our personalised Screen Cloth Mousemat not only works as a screen cleaner but also a mat to use your mouse on! Talk about multifunctional. Custom printed in full colour as standard, there is plenty of space to promote your message and it is compact enough to mail out to all your clients. Want something that's going to be more practical? Our customised Xoopar Geo Mouse works through bluetooth to connect to your computer and its retail quality style is sure to impress your clients. It even illuminates your design when in use!
Need to get some quick information for your meeting? Pop your favourites into a basket and enter the quantity you need and our system will give you a rough idea of how much it will all cost! Handy, right?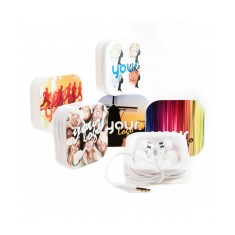 Handy carry case. 2 spare sets of earbuds. 1.2 metres long. Customisable full colour case.
£3.64 on 250+ (MQ 50)