There's now no excuse for turning up to a meeting without super shiny shoes! We supply a small range of custom printed Shoe Shine Kits, all of which can be branded with your design. These are perfect for anyone on the move. They also make a great give-away in hotels and help spread your company image wide and far. Our select range of personalised shoe shine kits are all capable of being branded with your design and are sure to be appreciated by anyone who receives them. The small branded Shoe Shine is great for exhibitions and conferences as a giveaway that people can be left to help themselves to and the promotional shoe shine kits are great for storing in hotel rooms for business travellers as a practical gift to help them look their best for the meeting.
Read More...
Keep your shoes squeaky clean and shining bright with our promotional shoe shine kits. You'll never have an excuse for scruffy shoes again!
Full size kits to basic shoe shiners, you're sure to find something to fit the bill here at MoJo. We love the custom printed Shoe Shine for its simplicity and portability. This small item is great for freshening up your outfit and making sure your shoes are shiny. At only 60mm diameter, this product is compact enough to slip into your pocket or handbag so you can make sure you are looking your best before any meeting. Personalised with your design to the top, your branding will easily be noticed by your customers every time they go to shine their shoes.
Ready to get your shoes shining again? Give our sales team a call to get your promotional shoe shine kits!
Shoe Shine Kit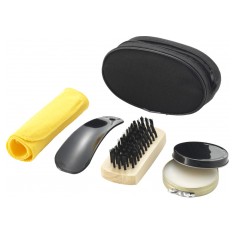 Contains shoe polish, shoe horn, brush & cleaning cloth. Quick delivery.
£2.86 on 250+ (MQ 250)